If you have previously purchased one of our collars you will notice that this guide is different. I decided to update it to hopefully make it a little simpler to follow and to make it easier if you have a nylon collar with plastic clips.
All collars - for half check collars (please see additional guide below)
1) The easiest way to measure for your dog's new collar is to measure the current one as presumably this fits round his/her neck nicely. To do this simply take the collar off your dog, buckle it back up to the hole they currently wear it on and measure the internal circumference/length with a tape measure in inches (as the blue line in the picture below shows).
2) You can also measure round your dog's neck where the collar will sit. Again using a tape measure, measure round your dog's neck at a tightness that you like, in inches.
You can also use a piece of string for both the above methods if a flexible tape measure is not to hand and then measure the string, if you don't have a soft measuring tape this may be easier.
With both methods if you need to, round the measurement up rather than down as a slightly larger collar will be better than one that's too tight!
Your collar will be made so there are extra holes either side of the ordered size to allow for any required adjustment.
*If you have a young dog you can have the size ordered at the smallest hole allowing for growth (by clicking the option). Please note that your dog may still grow out of their collar.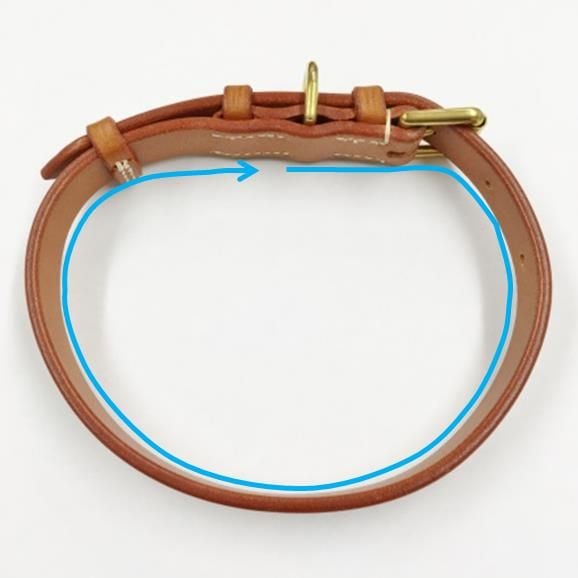 Half Check Collars
The sizes of these collars are for the leather part only excluding the chain which adds around 4" to the total collar length.
Use one of the methods above to find your dogs collar size but now you need to subtract 2-3" as described below.
We recommend that you order a half check collar that is a least 2" smaller than your dog's collar size i.e. if your dog has a 16" collar size order a 14" collar.
If you prefer a greater degree of check, order a collar that is 3" smaller than your dog's collar size. i.e. if your dog has a 16" collar size order a 13" collar.
Many customers like to use half check collars as a permanent collar however we don't recommend this as it could get caught up on something causing injury when your dog is left unattended.
As with all our collars there will be room to lengthen or tighten your collar as the size you order will have extra holes.